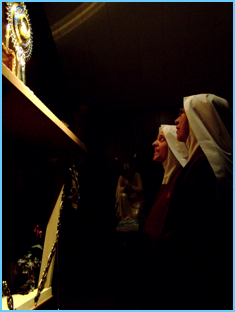 The bishops of the United States of America have issued a call to action to defend religious liberty and to protect the First Freedom of the Bill of Rights.
The bishops have asked that the fourteen days from June 21—the vigil of the Feasts of St. John Fisher and St. Thomas More—to July 4, Independence Day, be dedicated to the theme of a "Fortnight for Freedom."
This period will be a special time of prayer, study, catechesis, and public action that will emphasize the double heritage of Christian and American liberty.
"As Catholic bishops and American citizens, we address an urgent summons to our fellow Catholics and fellow Americans to be on guard, for religious liberty is under attack, both at home and abroad," they declared.
In support of this effort, the Handmaids of the Precious Blood (www.nunsforpriests.org) in Jemez Springs, New Mexico, have asked that anyone interested in supporting this effort send their petitions for the nation and for our leaders to Cor Jesu Monastery, PO Box 90, Jemez Springs, NM, 87025. The petitions will be placed under the high altar throughout the nun's Corpus Christi novena (May 30th – June 7th), included in their Mass intentions and will remain at the altar until July 4th.
The Handmaids of the Precious Blood, an IRL Affiliate Community, are cloistered nuns offering their lives for the sanctification of priests in Perpetual Eucharistic Adoration.