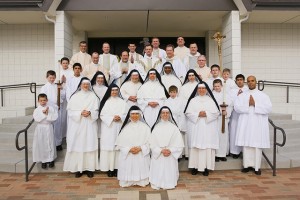 June 6th is the Feast Day of St. Norbert. May the Norbertines around the world be blessed by their most saintly founder, St. Norbert.
The five ends of the Norbertines are:
1) Laus Dei in choro (the singing of the Divine Office)
2) Zelus animarum (zeal for the salvation of souls)
3) Spiritus jugis pœnitentiæ (the spirit of habitual penance)
4) Cultus Eucharisticus (a special devotion to the Holy Eucharist)
5) Cultus Marianus (a special devotion to the Blessed Virgin)
Check out the Norbertine website of St. Michael's Abbey (a thriving IRL Affiliate Community) in Silverado, CA, and the Norbertine Canonesses website as well which is a new community of nuns.