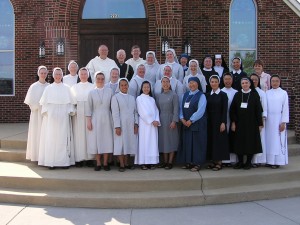 There is an interesting article in The National Catholic Register regarding the history behind The Leadership Conference of Women Religious (LCWR) doctrinal assessment.
A little background: The Vatican established the LCWR in the 1950's (originally named the Conference of Major Superiors of Women in the United States). In the 1980s those religious communities that did not share the political and religious views of the LCWR petitioned the Holy See to allow them to form their own association. This was finally done when the Council of Major Superiors of Women Religious (CMSWR) was established in 1992.
The IRL Affiliate Communities are part of the CMSWR. Go to our website to see a list of our communities.
According to the article:
The average age of the members of LCWR communities is 73 and increasing, while their numbers fall. Meanwhile, what of the CMSWR? They represent 20% of all the women religious in the U.S., more than 11,000 sisters, but they are young, with an average age of 35 and falling, and they are growing fast. They are happy to state their fidelity to the magisterium of the Church, to pray together as the central focus of their lives, to work together in community apostolates, to wear recognizable religious habits and, above all, to promote and protect their consecration to Christ as the source and goal of the Church's life.