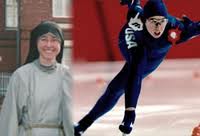 The National Catholic Register has an article in the current issue (July 15-28, 2012) about a former Olympian who is now a Franciscan Sister of the Renewal. Sr. Catherine Holum was an American speed-skater at the 1998 Winter Olympics in Nagano, Japan. Appropriately enough, she is stationed in England where the XXX Olympiad will kick off on July 27th.  Her mother Dianne has 4 Olympics medals.
When she was 16, Sr. Catherine had a profound experience of faith while on a pilgrimage to Fatima but fell away from her faith while she attained a degree in photography from the Art Institute in Chicago. However, she was always pro-life and encountering a group of pro-life young people who were on a walk across America changed her life. Here she witnessed joyous, zealous Catholics whose love for Jesus really made a difference in their lives. When she encountered the Franciscan Sisters of the Renewal at World Youth Day in Toronto, she felt the same attraction in her heart that she had felt for these young people. She joined the community in 2003.
Heaven, she says, is eternal glory. Winning a gold meal is only brief glory.