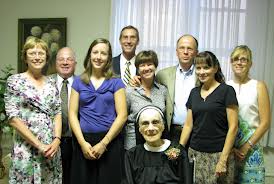 Sr. Evelyn Ann Schumacher, OSF, a Franciscan Sister of Christian Charity and a special friend of the Institute on Religious Life, is celebrating her 75th profession as a religious sister. As an 8th grader in 1933, Sister knew the convent was where she was meant to be. Her parents who "would not put an obstacle in the way if God were really calling her to religious life" ultimately agreed. Her father's last words to her as he put her on the train were: "Do whatever they tell you." As soon as she arrived at Holy Family Convent in Manitowoc, Wisconsin, she knew she was home.
Sister was a teacher until 1974, earning Masters degrees from Creighton and Marquette along the way. Then she began to conduct retreats and days of recollection as well as turning her talents to writing. She has authored 4 books for the IRL:
An Undivided Heart. Pope John Paul II on the Deeper Realities of the Consecrated Life
Holiness, The Heart of Renewal. The Lasting Legacy of Pope John Paul's Message to Religious
Pray Always! The Contemplative Dimension of the Apostolic  Religious Life
Invitation to Intimacy. Christian Discipleship as Taught by Jesus in the Farewell Address of John's Gospel
Sister Evelyn Ann is now retired and lives at St. Rita's Health Care Center in Manitowoc. God bless her for her faithfulness.