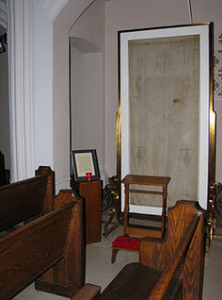 It is a dream of many people to to travel to Turin, Italy, to see the Shroud of Turin, the burial cloth of Christ. Well, there is an option closer to home at the Monastery of Our Lady of the Rosary in Summit, New Jersey. And this copy of the original has a supernatural quality all its own!
This replica of the shroud was commissioned by Maria Maddalena of Austria, Grand Duchess of Tuscany, in April, 1624. It was placed on the real shroud for a while and this is the amazing thing – the wound on the side of the original STAINED THE COPY! In 1987, 15 scientists from the Association of Scientists and Scholars International for the Shroud of Turin arrived at the Dominican monastery in Summit to study this copy, and they affirmed that the stain on the copy is blood and of same blood type as those found on the original shroud.
The Duchess presented the replica to the Nuns of St. Catherine's Monastery in Rome who had it in their safekeeping for almost 300 years. In 1924, the nuns in Rome presented the Summit Dominicans with this treasure. For years it was kept within the nuns' enclosure but now it is available for public viewing. The chapel is located at 543 Springfield Avenue in Summit, New Jersey. It is open from 6:00 AM to 7:00 PM daily.
Pope Benedict XVI asks of us during this Year of Faith that we "may deepen our knowledge of the mystery of Christ and witness joyfully to the gift of faith in Him." The mystery that the shroud teaches us to meditate on is Holy Saturday, the "'no man's land' between the death and the Resurrection, but this 'no man's land' was entered by One, the Only One, who passed through it with the signs of his Passion for man's sake: Passio Christi. Passio hominis. And the Shroud speaks to us precisely about this moment….The voice of God resounded in the realm of death. The unimaginable occurred: namely, Love penetrated 'hell.'"