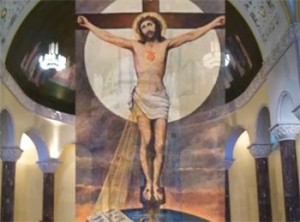 A review of the history and tradition of the Visitation Order shows that Jesus Christ chose them to be the sanctuary of His Sacred Heart. A new video released by them highlights six nuns who were holy recipients of His messages.
Of course, St. Margaret Mary Alacoque was the first privileged recipient of the revelation of the Sacred Heart of Jesus; a heart burning with love for all mankind whose hearts are often turned away from the Lord.
Venerable Sister Anne Madeleine Remuzat (b. 1696), of Marseilles, France, was instrumental in having the city of Marseilles consecrated to the  Sacred Heart, which saved the city from the bubonic plague.
Sister Marie of the Sacred Heart Bernaud was Foundress of the Guard of Honor of the Sacred Heart of Jesus. The origin of the Guard of Honor may be traced back to the first watch on Calvary, when our Lady, St. John and St. Mary Magdalene offered to the pierced Heart of Jesus the first homage of glory, love and reparation. Members can still join today!
Venerable Mary Martha Chambon of the Visitation of Chambery (d. 1907), France was mystically commissioned by Jesus during her lifetime (1841-1907) to renew reverence to His Holy Wounds. St. Francis de Sales in a vision told her "God has chosen you to complete the devotion to the Sacred Heart."
Venerable Louise Margaret Claret de la Touche was chosen by Our Lord to live her religious life for the clergy.
Sister Marie Teresa Desandais was a Visitation Nun known as the Apostle of Merciful Love and a contemporary of St. Faustina.
The Visitation Nuns hope that His Sacred Heart will profoundly touch yours too.