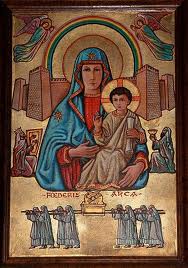 Pope Francis continues to puncture the vast blog-o-sphere with his direct, challenging and fresh way of expressing Church truths. In an address earlier today to the plenary assembly of the International Union of Superiors General (UISG), the Holy Father spoke to the sisters about obedience, poverty, and chastity. His reflections are not just for religious but for all people.
Poverty: "Is also expressed in a soberness and joy of the essential, to put us on guard against the material idols that obscure the true meaning of life. …. Theoretical poverty doesn't do anything. Poverty is learned by touching the flesh of the poor Christ in the humble, the poor, the sick, and in children."
Chastity: "Please, [make it] a 'fertile' chastity, which generates spiritual children in the Church. The consecrated are mothers: they must be mothers and not 'spinsters'! Forgive me if I talk like this but this maternity of consecrated life, this fruitfulness is important! May this joy of spiritual fruitfulness animate your existence. Be mothers, like the images of the Mother Mary and the Mother Church. You cannot understand Mary without her motherhood; you cannot understand the Church without her motherhood, and you are icons of Mary and of the Church."
Obedience: "It isn't possible that a consecrated woman or man might 'feel' themselves not to be with the Church. A 'feeling' with the Church that has generated us in Baptism; a 'feeling' with the Church that finds its filial expression in fidelity to the Magisterium, in communion with the Bishops and the Successor of Peter, the Bishop of Rome, a visible sign of that unity….It is an absurd dichotomy to think of living with Jesus but without the Church, of following Jesus outside of the Church, of loving Jesus without loving the Church."
This is a call to all Christian people—to physically be with the poor, to actively evangelize and beget spiritual children, to be united in all things with the Rock of Peter.