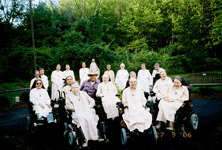 Many women who believe they have a religious vocation often find the doors shut to them because of age or infirmity. Someone pointed me to the Benedictine Monastery of Jesus Crucified in Connecticut as community who accepts people with disabilities or handicaps. I do not know the particulars but their website says: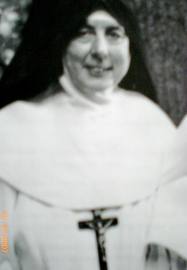 All the sisters, handicapped or in good health, put their potential, their talents and their weaknesses in common for all "carry their treasure in earthen vessels" (2 Cor 4:7). Whatever our physical condition may be, it is one of the means by which we follow Christ in His Passover to the Father. It is not in spite of our handicaps and weaknesses that we go to God, but with them.
The Sacred Heart of Jesus always loves and looks after his own. Father Maurice Gaucheron, a priest on the staff of the Basilica of Montmartre, felt deep compassion for the women who came to him who had a sincere desire to enter religious life but were prevented from doing so because of their fragile health. With Suzanne Wrotnowska, aka  Mother Marie des Douleurs, a group of women were formed under the Benedictine Rule.
The Congregation of the Sisters of Jesus Crucified was established in the diocese of Meaux in 1938 and became part of  the international Benedictine Confederation in 1984. Their one location in the United States is the Monastery of the Glorious Cross which has 17 sisters. Their address: 61 Burban Drive, Branford, CT 06405. Their phone number is:  (203) 315-9964 or 315-0106.