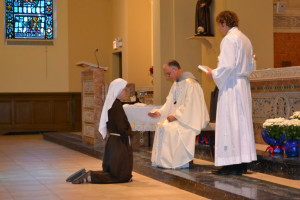 One of the joys in working at the Institute on Religious Life is the opportunity to see emerging communities blossom and grow. One of those communities is the Franciscans of the Eucharist of Chicago, founded by Rev. Bob Lombardo, CFR.
On Saturday, September 21, Sr. Stephanie Baliga pronounced her first vows in the beautiful church of Our Lady of the Angels, exchanging her white veil for a brown one. She joins Sr. Alicia and Sr. Kate who professed first vows in 2012. In October, Matt and Jaime will be invested as novices. And Jessica officially joined them as a postulant on September 8th.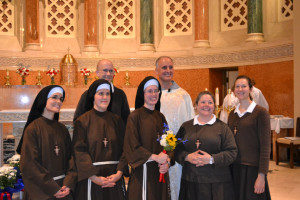 Sr. Stephanie is a graduate of the University of Illinois (Champaign) where she was on the track and cross country team. On October 13, she and two other former Illini runners will be running in the Chicago Marathon, raising money for the Mission of Our Lady of the Angels. Their goal is to raise $40,000. The mission is located in one of the poorest neighborhoods of Chicago where the Franciscans are bringing the light of Christ to the neighbors and the community through their prayers, outreaches and presence. Click here to find out how you can be a prayer warrior to support their efforts on Marathon Sunday!
And if you want to solve the vocations crisis, check out the activities at the Newman Center at the University of Illinois. Sister Stephanie and Jessica are just two examples of those men and women who have chosen to enter religious life or the seminary. Go Illini!