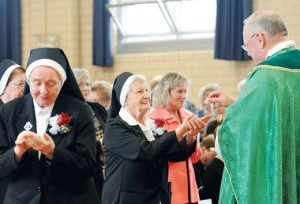 Somehow I missed this terrible story.
On October 12, 2013, three 19-year-old men set two fires in a Daughters of Divine Charity convent in Staten Island, New York, critically injuring one of the sisters. The three college students had spent the evening smoking marijuana and drinking before breaking into the convent, looking for something to steal. Upon leaving, one of the men set two fires: one in a first floor closet and anther in a 3rd floor bedroom.
The convent is located at St. Joseph Hill Academy on Staten Island. The fire destroyed their chapel, sacristy, archives and provincial offices.This follows on the heels of two other incidences of vandalism on the property. Fortunately, arrests have been made in this latest incident.
Thankfully, Sister Regina Gegic, F.D.C., 45, celebrating 25 years as a religious, was able to return home on Monday after a two-week stay in the hospital. Click here to see the video. Sister was injured when she jumped from a second floor window to escape the blaze, breaking three vertebrae in her back. Another sister escaped the fire unharmed.
Just one day after the fire, Cardinal Timothy Dolan was with the sisters, celebrating the mass in honor of 100 years of service in America. In addition to their education apostolate, the sisters run St. Mary's Residence for young women in Manhattan. "Sisters, you were prolific from the very beginning," he said. "The best is yet to come. I think our gratitude is even deeper in the shadows of what happened and it shows how fragile life is and how vulnerable we are."
On November 7, a fundraiser will be held at Jimmy Max restaurants in the area to help raise funds to restore the convent. If you would like to make a donation, please visit their website.
May God protect them and those they serve.