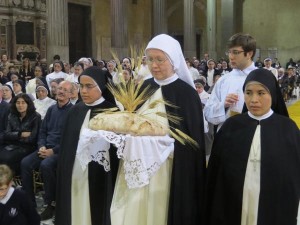 On November 7, 2015, the Dominican family began the celebration of the Eighth Centenary of their founding with a celebratory Mass at the Basilica of Santa Sabina in Rome. The ancient Basilica was built in the 5thC and was given to St. Dominic and the Dominicans in 1222. The cell where the saint lived is now a chapel though the dining room, used by St. Thomas Aquinas when visiting Rome, is still intact. As the Mother Church of the Dominican Order, it is the fitting place to inaugurate the jubilee year!
The presider for the Mass was the Master of the Order, Fr. Bruno Cadoré. The congregation consisted of representatives of the Dominican family, the Superior General of the Franciscans Friars Minor, and many friends of the Order of Preachers. The liturgy began with the opening of the ancient door of the Basilica. Father Bruno lit a candle in the doorway symbolic of Saint Dominic as the "Light of the Church."
Their charism of preaching and their commitment to the mission to proclaim the Gospel in season and out of season is the light they bring to the nations. During the Offertory, Dominican nuns brought forth baskets of rosaries which were blessed by Father Bruno. These are the rosaries that will be used for the rosary pilgrimage in the 202 monasteries of the Order around the world during the year. Each monastery made 2 rosaries and sent them to be blessed. The rosaries sent back will be from another monastery!
The Mass did not end in the usual fashion: "The Mass is ended…" because the celebrations have just begun.
Check out local Dominican monasteries near you for special events!