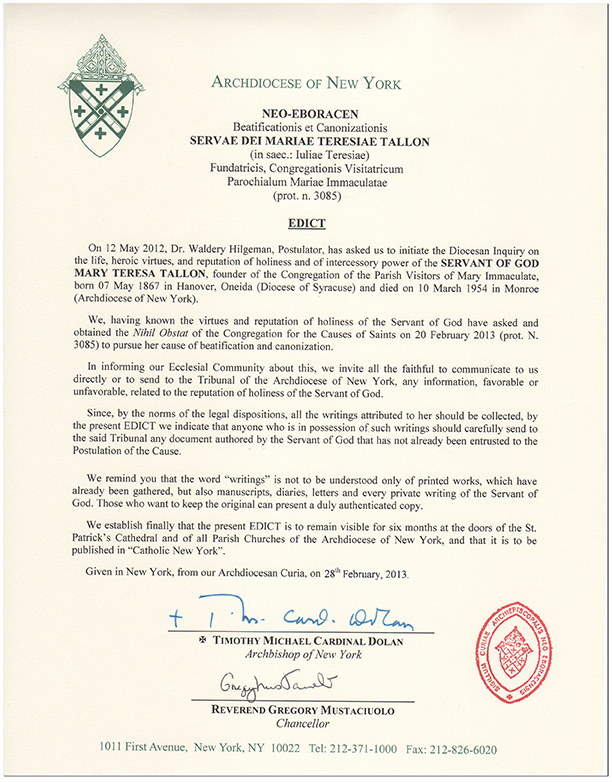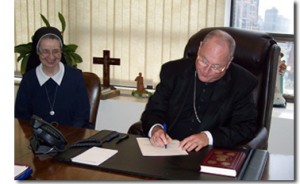 The cause for the canonization of Mother Mary Teresa Tallon, foundress of the Parish Visitors of Mary Immaculate, has moved another important step forward. On February 20, 2013, the Archdiocese of New York received the Nihil Obstat from the Congregation for the Causes of Saints indicating that the Archdiocese is free to pursue her beatification and canonization.
On April 16, 2013, the cause for beatification and canonization officially opened in the archdiocese for Mother Mary Teresa. She is now recognized as a Servant of God.
"The diocesan tribunal officials who would be working on the cause officially took their oath before the cardinal," said Sister Maria Catherine Iannotti, P.V.M.I., vice-postulator, who also took the oath April 16.
Those on the tribunal will now interview witnesses who knew Mother Mary Teresa. There are two sisters still alive who knew Mother Mary Teresa who died in 1954. They have already given written testimony.
In signing the edict related to the cause, Cardinal Timothy Dolan invites all the faithful to submit any writings or helpful information, favorable or unfavorable, about the Servant of God to the Tribunal of the Archdiocese. All the information collected will give a true picture of the life of Mother Foundress and hopefully pave the way to her elevation amongst the saints.
The Parish Visitors are neighborhood missionaries, imitating Christ's own way of life through the vows of chastity, poverty and obedience, bringing the message and love of the Good Shepherd to all and seeking those Catholics most spiritually deprived and distant from the Church.
Mother Carole Marie Troskowski, P.V.M.I., superior general of the Parish Visitors, credited "Divine Providence" with introducing the cause of Mother Mary Teresa "in a time of the new evangelization, which is put before the whole Church as of greatest importance."
For more information, visit the Parish Visitors website or see the article in the Catholic New York.